Who ever imagined that such a beautiful sound could resonate from a discarded 55 gallon oil drum?  Cocobean is proud to feature the top steel drum (steel pan) players in Florida.  Direct from The Caribbean, they sing and play the steel drums accompanied by pre-recorded music, making them the true definition of a "one man band". Our steel drum players hail from Trinidad & Tobago, Antigua, St Kitts & Nevis, St Thomas (US Virgin Islands), St Croix (US Virgin Islands) and Jamaica.  They all started playing the steel pan in their early teens and collectively, they have over 150 years of playing experience.  They are very professional, friendly and always start on time.  Our solo steel drum players are very popular for wedding ceremonies, cocktail hours and house parties.  Please check out the sample video below of one of our steel drum players.
Songs include a variety of original and cover music, from traditional steel drum, calypso and reggae music, to modern day soca and dancehall. They also perform some Top 40 hits, folk songs, Jimmy Buffet selections, traditional and other popular wedding music and wedding songs. Our steel pan players have performed at many of the top resorts, hotels and wedding venues throughout Florida, Georgia and South Carolina. For a sample list of these locations, please click on Venues in the top navigation bar.
Caribbean Steel Drum Players
Our solo steel drum players provide Caribbean Music and Island Music for weddings, rehearsal dinners, conventions, corporate events, house parties, pool parties, birthday parties, anniversaries, retirement parties, graduation parties, fundraisers, christenings, reunions, bar mitzvahs, bat mitzvahs, bachelor parties, bachelorette parties, grand openings, fraternity functions, sorority functions, cruise ships or any other special occasion. During the holidays, our steel drum players are often booked for Company Christmas Parties. They can perform traditional Christmas Carols and other Christmas Music and Holiday Music on the steel drums. Please check out the Tropical Christmas videos on the Holiday Parties Page (under Services) showcasing some of your favorite Christmas Carols performed on the steel drum.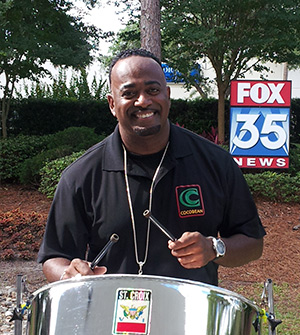 As mentioned, our solo steel drum players are very popular choices for weddings and perform at over 50 weddings a year. They do all types of weddings, including beach weddings, island weddings, destination weddings, gay and lesbian weddings and same-sex marriages.  Our steel drum players can perform for both the wedding ceremony and the cocktail hour. During the wedding ceremony, the steel drum player can perform traditional wedding music on the steel drums, such as the Bridal Chorus, Canon in D and the Wedding March. Please check out the wedding ceremony videos on the Weddings Page (under Services), showcasing traditional ceremony music performed on the steel drum.
Hire Only The Best!
If you prefer something non-traditional, the steel pan player can perform a nice reggae selection for the processional and an upbeat calypso selection for the recessional.  For outdoor weddings, we ask that (if possible) the steel drum player set up under a covered or shaded area.  The reason for this is to protect the instrument.  If the steel drum is exposed to the elements (sunlight and rain) for too long, it can go out of tune.  This is one of the reasons why our steel drum players have their steel drums tuned once or twice a year by an expert steel pan tuner.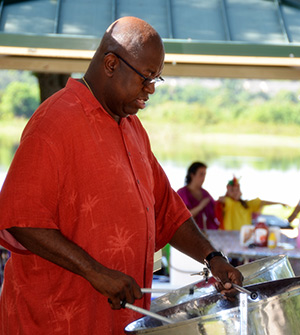 Not everyone has the room for a full band to perform at their house, so hiring a solo steel drum player is often a very popular choice.  Almost every weekend, at least one of our steel drum players is hired to perform at somebody's home for a house warming party, birthday party, anniversary, graduation, bridal shower, baby shower, engagement party, holiday party or summer pool party.  Our guys have had the opportunity to perform in some really beautiful homes.  But whether it's a beach house, mansion on the golf course, or a small two-bedroom house, it's always an honor to have someone welcome our steel drum player into their home.
Cities We Serve
Some of the cities in Florida (FL), Georgia (GA) and South Carolina (SC) that our steel drum players service on a regular basis include:
Orlando, Lakeland, Tampa, Palm Harbor, Dunedin, Treasure Island, St. Pete, Clearwater, Anna Maria Island, Sarasota, Sand Key, Siesta Key, Longboat Key, Ft. Myers, Bonita Springs, Captiva Island, Naples, Marco Island, Florida Keys, Key West, Key Largo, Islamorada, Key Biscayne, Miami, Miami Beach, South Beach, Fort Lauderdale, Singer Island, West Palm Beach, Palm Beach, Jupiter, Port St Lucie, Fort Pierce, Vero Beach, Melbourne, Cocoa Beach, New Smyrna Beach, Daytona Beach, Ormond Beach, Palm Coast, St Augustine, Ponte Vedra Beach, Fernandina Beach, Jacksonville, Jacksonville Beach, Amelia Island, St George Island, Gainesville, St Simons Island, Jekyll Island, Savannah, Atlanta, Hilton Head and Charleston.